Send email review invitations to your customers!
Are you ready to talk about planting trees for a better future and invite your customers to join your efforts in reviewing your business/product?
Now you can do that with our new feature: sending email invitations to your customers that create a buzz.
Each email includes an invitation to leave a review for your business or product. Furthermore each email motivates with interesting facts about trees and why it's so important to plant them.
After sending email review invitations to your customers, you'll be able to see the impact inside your ReviewForest account.
Below we will give you an overview of the main features of the email review invitations.
Overview on review invitations via Email
Asking your customers for reviews is essential to get reviews!
Besides the other options we offer you, you now have the possibility to ask for reviews by sending ready made email invitations to your customers, – available inside your ReviewForest account.
Review invitations are very effective in getting reviews!
With review invitations via email, you can include all the information about your businesses commitment in fighting climate change and motivate your customers to actually leave a review.
Our email templates include your review forest link, so that your customers are instantly able to leave a review for your business/product.
The best time for review invitations
The question 'When do I send Email review invitations to my customers to get as many reviews as possible?' can be answered briefly with this:
Send review invitation via Email as soon as possible after your customers have used your service.
If you offer services, a good time to ask for reviews is after the consultation, service and implementation are complete.
If you sell products, give your customers a few days to try the product before asking for a review.
For more on this, see our article on email review requests.
How does it work? It's very simple!
You can personalize and customize the emails and send them directly from your ReviewForest account. The email includes all that is needed to motivate your customer to leave a review, – and everything they need to leave a review for your company: your review link.
The "step by step guide" on how to set up the email review invitations you'll find below.
Content of the ready-made email templates
The email templates are organized in 4 sections.

1. part: addressing the recipient and asking him/her for a review.
You can choose the language, the way of addressing your customer, add your logo and decide on the subject line.
2. part: in four short facts, we answer the question why it is important to plant trees.

3. part: includes information on your actual planting project.
We will always display the relevant information on your actual planting project. If you change the planting project, future emails will include information on your new planting project.

4. part: the last part of the email contains your legal information, a link to your privacy policy and the unsubscribe option for your customers.
Personalize your emails with your company logo
Each email you'll send from ReviewForest includes your company name, your review forests URL and with it your review link.
In addition you can include your company logo! Simply go to "Personalization", upload your logo and your company logo will be included in any email you will send.
Add legal notice to your emails
Within "legal notice" you find the option to add legal details of your business.
Some countries require you to include those details by law, for others it is an option to further personalize the emails to your business. Make sure that in case you add your businesses legal information you fill out all required fields.
If you do include the legal information of your business, this information shows at the end of each email you send. If you do not include the information, we will instead show legal information of ReviewForest.
Step by step guide
1. Log in to your ReviewForest account.
2. Navigate to "Review invitations" in the left menu and click on "Send email".
3. First set the business location or product you want to ask for reviews for in the top right menu.

4. Use one of the "Send invitations" buttons.
5. Choose the Email language by clicking on the appropriate button.
6. Try out which subject line will be best received by your customers. On the right side the preview shows you which text will greet the recipient.


7. Upload your logo (if your haven't done so yet)
8. Choose the more formal text-template or the friendly version.


9. Go to "Next" to enter the recipient(s) name and email addresses.
The field "Recipient name" is optional. If you specify the recipient's name(s), the email will include that name. If you leave the recipient's name blank, the email will speak to the recipient without addressing them by name.



10. After entering your customers' email addresses, click "Send Invitations" to send your email review invitations!
Congratulations! Now you have sent your first email review invitations!

Check out the status of the sent email invitations to see who already opened the email and who clicked and probably left a review! If you see that an email was not deliverable, check once more the email address and re-send this email.
Monitor your sent email invitations
Your overview of already sent emails gives you information about the status of the sent email review invitation, so that you always have everything in view and can react if needed.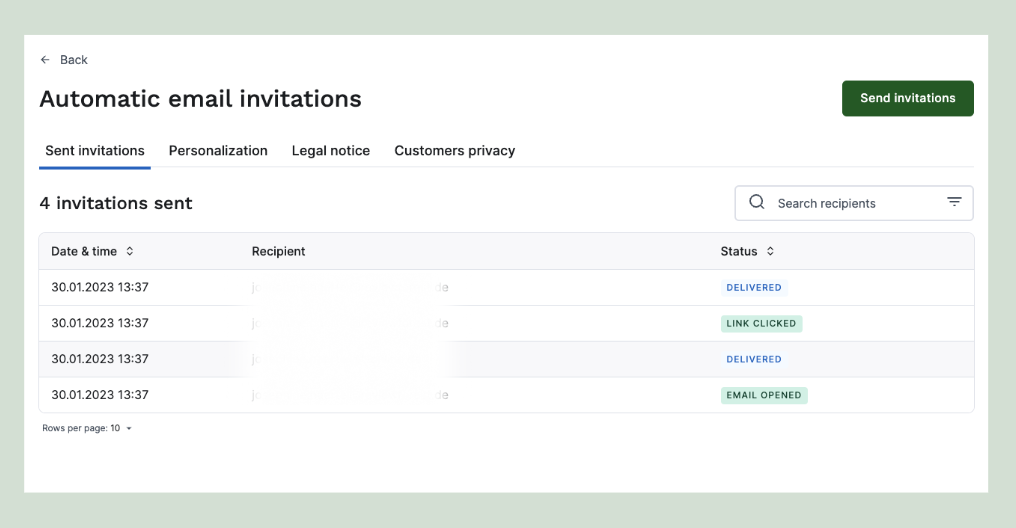 We have described the status with as much explanatory content as possible.
But in case you'll find yourself wondering what a certain status means, check out our overview on possible status for email invites here.
Use data protection option
We offer you the possibility to delete the data of your customers to whom you have sent review invitations.
Please note that after deletion we will not be able to show you a list of already sent requests. After deletion, we will only save the number of review requests you have already sent.
We hope this overview of email review invitations will help you take advantage of this new feature and generate as many new reviews as possible for your business or product and a lot more trees for all of us!
If you have any questions or comments, please contact us!